ANDREJ PIRRWITZ — Photography

Opening: 31 January 2013, 6 — 9 p.m.

Exhibition: 1 February — 2 August 2013
Mo — Fr, 10 a.m. — 6 p.m.

in the exhibition rooms of Berlin Hyp,
Budapester Straße 1, 10787 Berlin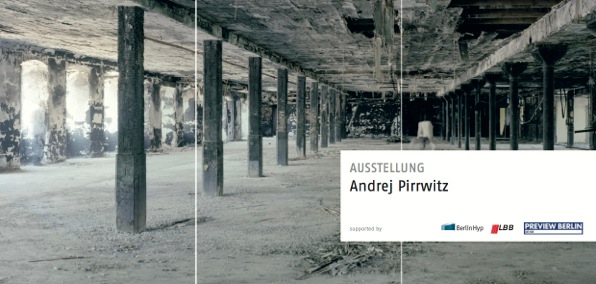 With the annual sponsorship prize awarded last September for the first time by PREVIEW BERLIN and Berlin Hyp, two artists will be able to mount a solo exhibition of their works in Berlin. As one of the 2012 winners, photographer Andrej Pirrwitz (born in 1963 in Dresden) will be showing his works from February in the Berlin Hyp exhibition rooms. The opening reception will be held there on 31 January from 6:00 to 9:00 p.m. in the presence of the artist.

Andrej Pirrwitz studied physics in Odessa (Ukraine) and received his doctorate in 1992 from the Humboldt University in Berlin. After working as an industrial manager at the American firm EATON for several years, he has worked since 2001 as a freelance artist in Berlin and Strasbourg (France). At the PREVIEW BERLIN ART FAIR 2012, his triptych "Le temoin d'Icarus" (2011) was shown in the booth of Istanbul's Gallery Riff Art Projects. In his large-format photographic compositions, Pirrwitz examines the interlacing and transience of time and space. Carefully selected spatial and lighting situations are captured in colour photographs with long exposure times. This results in poetically melancholy images of sober, grey spaces that blend old and new traces of use and users.

Along with Andrej Pirrwitz, Sara Möbius was also a recipient of the award in 2012. As a graduate of the Burg Giebichenstein University of Art and Design in Halle, Möbius participated in the PREVIEW BERLIN ART FAIR as part of the Focus Academy.